What is Trade Coordination
Coordination of multiple trades means ensuring that the virtual 3D CAD or BIM design could be built error free. A key part of this is looking for potential clashes between different parts of the design, often these clashes have significant costs if they reach the construction site. Whereas design coordination is primarily about ensuring architects and engineers get the less developed design about right, trade coordination is about getting highly detailed design to work correctly and may involve mechanical, electrical and plumbing contractors, structural and façade fabricators and many more.
Traditional processes for managing hundreds or thousands of clashes rely on periodic meetings and lots of PDF reports being sent between companies, involving lots of manual processes to download, federate and analyze, manage, report and resolve issues. Cloud technologies and BIM 360 allow a different approach to democratize this process and reduce the number of clashes going past the design stage.
Who should participate in Trade Coordination
As a minimum BIM Managers, VDC Managers and BIM Coordinators at contractors, those dealing with detailed design, and fabricators should be a key part of this process. However, to reduce the number of issues to a bare minimum, wider teams should be involved, from CAD and BIM technicians, to management to site teams looking at installation and safety issues.
How to run Trade Coordination in BIM 360
Using BIM 360 Model Coordination, models are automatically clashed* as they are uploaded or moved to a coordination space, and multiple clashes can be tracked as a single issue.
BIM/VDC Manager Workflow steps
Setup project folder structure in BIM 360 Document Management

We recommend a WIP/Shared/Published structure

Assign a folder as a Coordination Space

You can set up multiple coordination spaces, e.g. Formal Coordination, WIP Mechanical, WIP Plumbing
Design Team workflow steps
Use naming conventions within your files and Revit views to make them easy to find and filter
Create multiple views within Revit
Upload your file to the relevant folder in BIM 360 Document Management**
Formal Coordination
Open the Clash grid view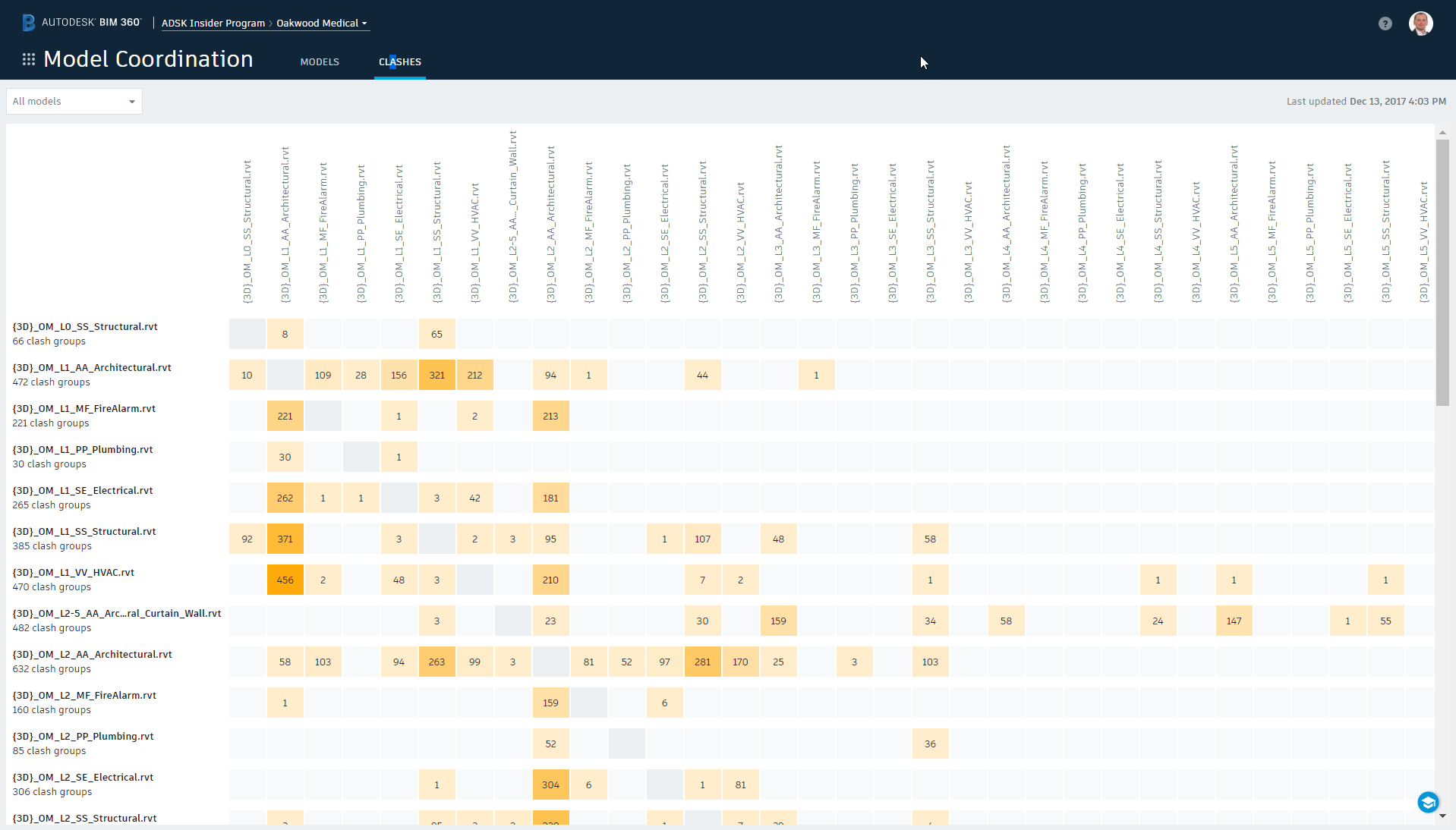 Use the Search tool to filter down to relevant data (e.g. trade or level)
Select a model, view or cell by which to filter clashes for classification
Select a group or individual clashes in the model which constitute a single issue to resolve or ignore (these can be selected in the view)

For non-issues select 'Not an Issue' and give a reason, these can be reactivated later if they need reprioritizing
For actual issues 'Create an Issue' and assign a person, company or role to resolve it and add a due date
Issue owners will be notified and reminded to resolve their issues, and can comment, reassign and close issues
In periodic Review meetings, concentrate on the issues that are overdue or have been escalated***
Project Home can be set up as a live dashboard to show your own issues, trends and latest models and drawings, you can even bring across Power BI data to augment this view
PDF reports of Coordination Issues can be scheduled from BIM 360 on a daily or weekly basis
Work in Progress Coordination
Open the Clash grid view
Use the Search tool to filter down to relevant data (e.g. trade or level)
Select your model, view or cell by which to filter clashes for classification
Identify areas in the model for focus, select multiple clashes and create issues for each task you want to undertake in your design
When new versions of a model is uploaded, BIM 360 will automatically rerun clashes across all models in the coordination space. We recommend running a dual screen setup, with BIM 360 on one screen and the authoring application on the other. If you are already using BCF then there is a BCF exporter in beta available on the App Store.
*This currently works with Revit files, DWG files and IFC files from Revit, ArchiCAD and Tekla
**Approval workflows in Document management can also be used to formalize the process
***Custom properties can be added to issues to suit your processes
Why change your model coordination process to BIM 360
By shifting the responsibility to resolve issues back to the trade contractors this will allow BIM/VDC managers to spend more of their time on high value activities such as constructability review and information management. It will allow site teams and project engineers to have higher confidence in the design, knowing that if everything is laid out accurately then everything should fit. It will allow design teams to better manage high frequency of changes, and more easily track and manage the resolution of design issues to completion. It will also allow management to have a more accurate picture of the possible risks to cost and schedule in the project due to minimized rework.
The model is fully coordinated, what next?
Once your virtual model is correctly coordinated, it is important that this accuracy is continued to the site. By taking layout points directly from this model into total stations, all teams can used Point Layout and BIM 360 Layout to ensure items are installed within tolerance and have confidence following trades will have space to work.